1914 Hotel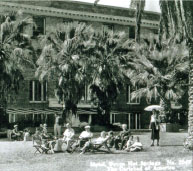 The Third Hotel
A new hotel again designed by James Reid was built opened for business by late 1914. Its reopening coincided with the opening of the Panama Pacific International Exposition in San Francisco. Mead's second wife, Mae Sadler Mead, was Contra Costa County's chairperson to the Woman's Board of the Exposition. She and Mead married in 1908 and Mae was central to the rebuilding of yet other Byron Hot Springs Hotel.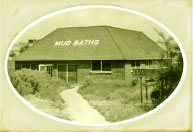 The third hotel is a four story, fireproof, brick and concrete structure built for about $150,000.00. It exists still today. A pumping station was installed near the river two miles away; pipes were laid and water was pumped to a reservoir on a hill behind the hotel and cottages from which, it could be released to fire hydrants placed convenient to the hotel and cottages. A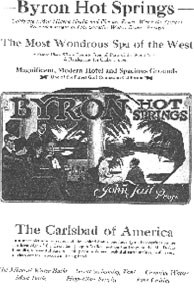 gas depot constructed at the gas wells near by in 1889, was improved and the gas was used to heat and light the entire resort. Fresh water for domestic purposes was piped from springs to a tank house on a hill near the tennis courts.

Lewis Risdon Mead died of bronchial pneumonia June 12, 1916. His widow, Mrs. Mae S. Mead, took over the management of the resort and constructed a memorial building to her late husband. Again, James Reid was called upon as Architect. The exterior was brick and its interior Alaskan Marble and inlaid stones. The walls were decorated with scenes of mountains, valleys and streams. Marble steps led to the mineral spring at the north end of the memorial. At the South end, a miniature well casing enclosed cold water springs.

The Roaring '20s [next] [last] [back to the top]
Home l Resort Plans l History l Golf Course l Resort Store l Newsroom l Contact Us


© 2004 Byron Hot Springs